The largest photograph in Ukraine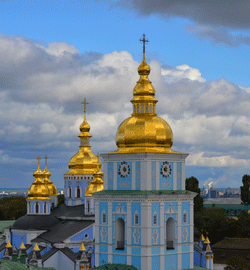 Kiev, Ukraine. On September 28th, 2013 was created the largest photograph in Ukraine known as "The Soul of Ukraine". A unique photo panorama featured over 500 singers and musicians from Grigoriy Verevka Academic Folk Choir, Pavel Virsky National Academic Dance Group, Ukrainian Bandura Players Capella and the National Academic Folk Orchestra. On the occasion of the 5th anniversary in 2014, InterContinental, Kiev hotel is supporting the initiative of famous American photographer Sergey Melnikoff aka MFF, whose creative nature allowed to organize half a thousand of Ukraine's leading artists in national traditional costumes with music instruments for a one and only historical photograph. This is a temporary text.

Dr. Sergei Melnikoff aka MFF, is American photographer of Ukrainian origin, whose nature photographs belong to the world's photography. The maestro of art photography has been working in 153 countries on all continents including Antarctica. Melnikoff works with traditional photo film using a bespoke panoramic camera which was produced for him by Fuji Corporation. Melnikoff's works were presented as gifts to His Holiness the Dalai Lama XIV, Pope Benedict XVI, Queen Elizabeth II, the US President George Bush, King Birendra Shah Dev of Nepal, Sultan of Brunei Hasannal Bolkiah, His Holiness Catholicos-Patriarch Ilia II of All Georgia, and many other prominent personalities of our time.

InterContinental, Kiev is a part of InterContinental Hotels Group (IHG), the largest hotel chain in the world by the number of rooms. The hotel is located in the very heart of Kiev, next to the Diplomatic Academy and such Orthodox churches as St. Andrew Church and St. Michael Cathedral. The hotel has 273 rooms, including 8 apartment suites. InterContinental, Kiev hotel has everything needed for recreation and business: the rooftop lounge bar b-hush, Comme Il Faut French restaurant, Olivera restaurant, beauty and relaxation center SPA-InterContinental, 6 conference rooms, including one of the largest ball room among hotels in the city.